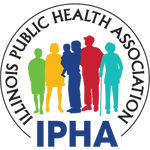 Tom Hughes is the Executive Director of the Illinois Public Health Association
Tell us about your organization.
The Illinois Public Health Association (IPHA) is the oldest and largest public health association in the State of Illinois. As one of the largest affiliates of the American Public Health Association, IPHA is widely recognized as a leader in the field of public health advocacy, health, education and promotion.
What communities do you serve?
We serve public health students and professionals across the entire state of Illinois.
Why did you decide to join the Illinois Kidney Care Alliance?
As a statewide public health organization, we work closely with a number of groups and thought leaders in the industry and when we were informed about the Illinois Kidney Care Alliance and its goals, we felt that that IPHA would be a good fit to help with their efforts.
What do you hope the alliance accomplishes? 
We hope the alliance is able to increase awareness around public health, especially when it comes to the factors that impact individuals across Illinois who are struggling with kidney care.
What policy changes do those living with kidney disease need now? 
IPHA would like to see all individuals have affordable healthcare and equity in access to that healthcare.
What can lawmakers do to help those with kidney disease? 
We believe lawmakers play a pivotal role in the public health conversation. By working directly with them, we think we can get closer to reaching our goal, ensuring that all individuals have access to equitable and affordable healthcare.
If you can share one story about the work you and your organization do, what would it be? 
Our Pandemic Health Navigator Grant continues to roll out in our eight funded regions – covering nearly every county in the state. Currently, we have approximately 60 community-based organizations onboarded, with new agencies being added throughout the month, including some federally qualified health centers (FQHCs).
It is exciting to see the process in motion, successfully helping our most vulnerable populations impacted by the COVID-19 pandemic. As the local health departments identify a need through the contact tracing process, our CBOs/FQHCs are then able to step in to provide additional health education, outreach and fulfill any resource requests they need to remain healthy and safe. A very special thanks to our team at IPHA and IPHCA for all their work on this program, because without them, none of this would be possible.