By HEIDI STEVENS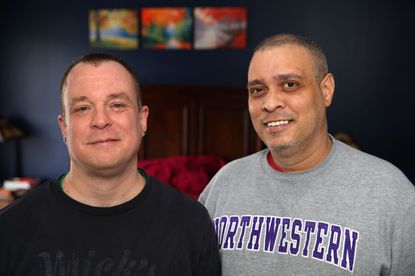 Al Morales learned he needed a new kidney in late 2017. He had a seizure around Halloween that year that left him blind in one eye, and a series of tests revealed chronic kidney disease.
"At this point I was thinking I'm out of hope," Morales, 49, said. "Who's going to donate a kidney to me?"
Around 5,000 people die each year waiting for a kidney transplant, according to the Living Kidney Donors Network. The list of people waiting for a donated kidney has around 100,000 names on it at any given time.
Morales' then-husband, Reed Benedict, offered Morales his kidney, but it seemed like a long shot. They didn't know if their blood types would match, for starters. And both men are HIV-positive; Morales was diagnosed in 2004; Benedict in 2012.
President Barack Obama signed the HIV Organ Policy Equity (HOPE) Act in 2013, lifting a ban that prohibited scientists from even researching, let alone completing, organ donations from one person with HIV to another. HIV was the only health condition singled out and banned in the National Organ Transplant Act, signed into law in 1984.
Understanding and treatment of HIV have advanced tremendously in the past three decades, and people living with HIV are no longer barred from registering as organ donors.
But by 2017, when Morales learned he needed a new kidney, only one kidney transplant between an HIV-positive donor and HIV-positive recipient had taken place in the United States — in 2016 at Johns Hopkins.
"I'm thinking what are the odds I'm going to find someone," Morales said.
In early 2018, Benedict went through the compatibility testing process.
"Immediately he calls me," Morales said. "He's like, 'You're my blood type. I'm a match.' "
"Every step of the way," Benedict said. "Every test. Every biopsy. Every step was a green light."
Six months ago, Northwestern Memorial Hospital transplant surgeon Zachary Dietch removed one of Benedict's kidneys and placed it inside Morales. Two weeks ago, both patients returned to Northwestern for follow-up exams and both are recovering beautifully.
Their surgery is the first HIV-positive-to-HIV-positive kidney transplant in Illinois and only the third in the nation. (The second took place in 2019 at Duke University Hospital.)
"There's a lot of euphoria here," said Dr. Aneesha Shetty, a nephrologist at Northwestern Memorial Hospital. "What made it special besides from an academic perspective is that we're opening a door."
"To me, what's most important is the gay community can breathe a little easier," Morales said. "There are more options for them — if they need an organ donor, if they want to be an organ donor."
The road was long, and it wasn't always linear. Two years passed between the time Benedict learned his kidney was a match for Morales and the actual transplant.
"What's different about HIV to HIV transplants is the donor has to undergo several biopsies," Dietch said. "HIV can be associated with kidney disease, and we want to make sure we don't jeopardize the donor's health. It's a calculated risk anytime someone donates an organ, and our job is to minimize that risk above all else."
Morales also worked with Dr. Valentina Stosor, a Northwestern Medicine infectious diseases specialist, to coordinate his anti-rejection medications with his HIV medications.
"When you go on medicine that weakens or suppresses your immune system after transplant, any viral infection can progress very quickly," Stosor said.
Stosor removed one antiviral medication from Morales' regimen because it was associated with a small increase in kidney problems, but otherwise had to tweak very little.
"Both patients are doing very well, with good kidney function and excellent control of HIV," Stosor said, shortly after an April 2 visit with Morales and Benedict. "They're back to their normal lives. They are really pioneers."
Their surgery and outcome is incredibly promising, Stosor said.
"First, the need is greater than the organs available, so this really maximizes our utilization of organs," she said. "The other thing to consider is what an advance it is to be living with HIV and to be an organ donor. You can just sign the back of your driver's license and you don't have to tell people that you're living with HIV. That's a huge advance."
I asked Morales and Benedict about fear. It's powerful to be a pioneer for progress. It also sounds harrowing — knowing you're doing something few have tried, knowing your body is on the line.
"We're both individuals of faith," Morales said. "Through this entire process — the testing, the surgery, follow-ups — we've never had fear. The faith is that God is in control and whatever happens, that's his will."
Morales and Benedict met in 2009. Benedict was playing rugby with some friends on an intramural city team and his teammates talked him into grabbing a drink afterward.
"As fate would have it," he said, "I met Al that night."
They considered themselves married for several years before the U.S. Supreme Court legalized same-sex marriage in 2015. In 2017, they officially wed.
They ended their marriage two years later — a mutual, amicable decision. But neither considered backing out of the transplant surgery.
"You don't stop loving someone just because the nature of the love changes," Benedict said.
They continue to live together.
Dietch, who estimates he's conducted "in the neighborhood of 200-250 kidney transplants," said his favorite part of surgery is watching the donor and recipient reunite (or, in some cases, unite for the first time) post-operation, knowing the miracle (helped along by medicine) that has just transpired between them.
Benedict and Morales, he said, were no exception.
"It hasn't ceased to amaze me," he said. "It's a very optimistic specialty. Most of what we do is provide hope for people."
And now that hope is slowly spreading to a group of people who were, for too long, left outside of its reach.